Clipsal Dimmer And Fan Control Guide
IMPORTANT INFORMATION
Be sure to scroll the complete page to choose the correct Mechanism for your application
Clipsal has now released the full
range of EMC compliant dimmer and fan controllers.

EMC (electromagnetic compatibility) compliance ensures that these products will not create an electromagnetic field that can cause interference with other electrical equipment such as televisions and computers.
These new products have been incorporated into our comprehensive

range of fan control and light dimming accessories.

Whether you need to control and dim a ceiling full of low voltage down lights or they require an all in one switch to operate a ceiling fan, we are confident that by placing your order with us you will receive the most suitable mechanism available utilizing state of the art technology.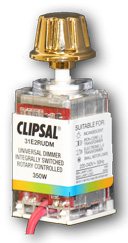 ROTARY SWITCHED UNIVERSAL DIMMER (C-Thru CLEAR MECHANISM) Maximum 350 WATTS
Rotary Switched Dimmer suitable for dimming incandescent loads up to 350 watts.

Suitable for dimming LOW VOLTAGE LIGHTING up to 350 watts using an IRON CORE TRANSFORMER or ELECTRONIC TRANSFORMER.
Suitable for dimming DIMMERABLE COMPACT FLUROESCENT LAMPS up to 150 watts.
Suitable for dimming DIMMERABLE LED LIGHTING up to 150 watts.

An on/off switch is incorporated within this unit. This is a Rotary style switch with a soft start.
A separate on/off switch is NOT required.

This Dimmer is designed for One Way Operation Only ( one dimmer to one light )

A technical reference sheet is supplied with mechanism. Click HERE for further technical data.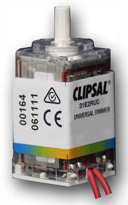 UNIVERSAL DIMMER
(C-Thru CLEAR MECHANISM) Maximum 450 WATTS
Dimmer suitable for dimming incandescent loads up to 450 watts.

Suitable for dimming LOW VOLTAGE LIGHTING up to 450 watts using an IRON CORE TRANSFORMER or ELECTRONIC TRANSFORMER.
Suitable for dimming DIMMERABLE COMPACT FLUROESCENT LAMPS up to 150 watts.
Suitable for dimming DIMMERABLE LED LIGHTING up to 150 watts.

An on/off switch is REQUIRED for this unit.

This Dimmer is designed for One Way or Two Way Operation ( one dimmer to one light or one dimmer to two lights ).

A technical reference sheet is supplied with mechanism. Click HERE for further technical data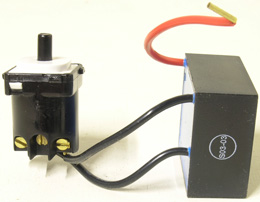 ROTARY 3 SPEED FAN CONTROLLER
An all-in-one fan control switch with off, low, medium and high settings.

This controller employs the use of capacitors to achieve linear speed control of the fans.

This method of control overcomes the annoying motor growl sometimes experienced in electronic controllers ensuring quiet operation of the fan motor.

An on/off switch is NOT required for this unit.

A technical reference sheet is supplied with mechanism. Click HERE for further technical data